The MA-TF1 canine unit is comprised of 12 Canines and their handlers. Each of these dogs has been selected for character traits that will make them a good search dog in a challenging environment. The most common breeds are Labrador and Golden Retrievers, German Shepherds, Belgian Malinois and Border Collies.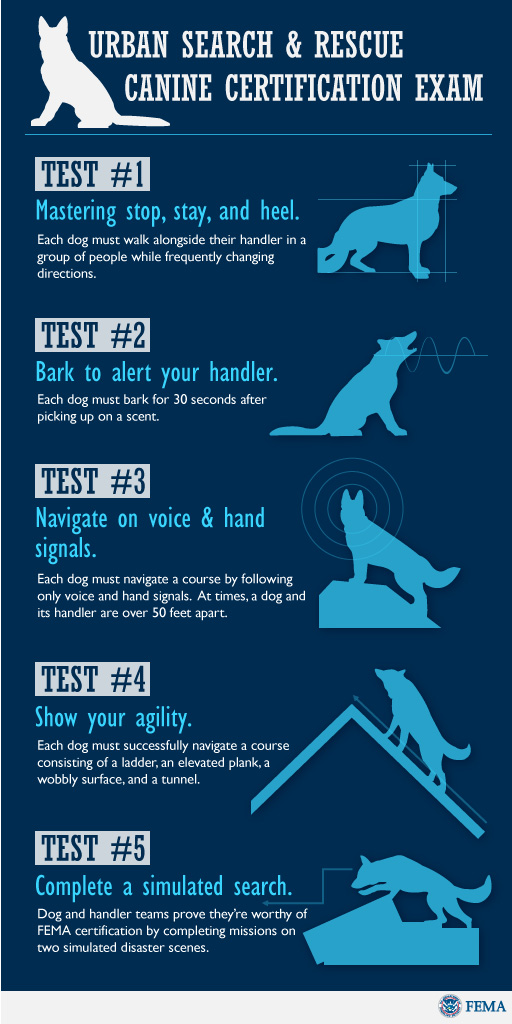 This graphic describes the five tests that FEMA Canine Search Specialists must pass in order to become certified.
It takes approximately two years to train these dogs to certification level with the goal of having dogs certified by the age of three. MA-TF1 dogs are trained for either finding live victims or human remains, not both.
Dog Selection
Dogs selected for the MA-TF1 program are tested at approximately one to two years old for their independence, willingness to engage a stranger in play and their comfort searching for a toy on the rubble. MA-TF1 does not accept puppies into their program, if a handler wishes to purchase a puppy they work with the puppy up until it can be evaluated at one year for its natural talents and suitability for the work. MA-TF1 does not accept dogs over the age of three unless the dog has prior search training and is an outstanding candidate.
Most MA-TF1 handlers have years of experience in the dog world, either in sport dogs or being on a wilderness search team. Many of our handlers are first responder from either the fire service or law enforcement.
Training
MA-TF1 Canine trains as a team three to four times a month; handlers are expected to train outside scheduled training's to make the progress they need to certify. Training's are usually Sat or Sunday, occasionally on a Friday. We have attendance requirements for participating in all team training's in addition to those required to be a member of Canine.
DHS and FEMA Canine Certification Evaluation Course
Department of Homeland Security and Federal Emergency Management Canine Certification Evaluation
"On a sweltering June 4th and rainy June 5th, 2016, 25 dogs and their handlers from Urban Search and Rescue Task Forces across the nation participated in the Department of Homeland Security and Federal Emergency Management Canine Certification Evaluation course at Aggregate Industries in Littleton, Massachusetts. Their mission to rapidly find an unspecified number of live victims buried deep beneath the rubble. Simulating some of the destruction found after bombings or natural disasters, the K9s comprised of German Shepherds, Labrador Retrievers, and other breeds, traversed sharp rebar, rough concrete, and slippery wooden pallets. The spirited younger dogs ran back and forth throughout the piles sniffing every crevice, while the most seasoned dogs understood the importance of conserving energy and systematically chose their course. Upon finding a victim, the handlers would reward their canine colleagues with a treat or a quick game before it was time for them to continue the search for more survivors. Throughout the two days, the love and deep admiration the canines and handlers have for each other was inspiring. The training to become one of the elite K9 search and rescue teams is long and arduous and not every team makes it. However, the chance that one of these dogs in the future may save a life trapped in the wreckage of a collapsed building makes it a worthy endeavor for most of the teams to pursue."
FEMA: Canine's Role in Urban Search & Rescue
Canine Search Specialist
The Canine Search Specialist is responsible for working with a search dog and reports to the Search Team Manager. He/she is also responsible for the care and welfare of the canines during mission deployment.
Description of Duties
The Canine Search Specialist is responsible for:
Searching structures, in US&R environments or other locations indicated in the mission assignment, using appropriate canine search equipment and techniques.
Documenting locations of alerts and, if possible, triaging the status of victims for rescue.
Adhering to all safety procedures.
Cooperating with and assisting other search and rescue resources.
Providing accountability, maintenance, and minor repairs for all issued equipment.
Performing additional tasks or duties as assigned during a mission.
Position Requirements and Criteria
Individuals who meet the following requirements and criteria will be eligible to become Canine Search Specialists in the FEMA US&R Response System. The intent of these requirements is to select handlers fully capable of providing the search techniques and tactics required in the urban disaster environment. The requirements and criteria for the position are identified in the following categories:
Knowledge
Skills
Abilities
Knowledge
The Canine Search Specialist must have:
Practical knowledge of general search strategy and tactics.
Practical knowledge of the technical aspects of search theory.
Practical knowledge of the theory and techniques of searching collapsed structures.
Practical knowledge of canine first aid.
Current certification as a FEMA Canine Search Specialist Team.
Successfully completed the FEMA Canine Search Specialist Course.
Rope Rescue Awareness Level per NFPA 1670, Chapter 6-2
Confined Space Awareness Level per NFPA 1670, Chapter 7-2.
Structural Collapse Awareness Level per NFPA 1670, Chapter 5-2.
Skills
The Canine Search Specialist must:
Have experience as a task dog handler/trainer (police, SAR, guide, etc.).
Have an understanding of canine search operations including team size, check and recheck procedures, and observer responsibilities.
Be competent in canine search handling.
Be competent in the required Technical Rescue Skill Sets (App. A) to be delivered by the task force sponsoring agency.
Abilities
The Canine Search Specialist must:
Be able to support the search team with the canine resource.
Be able to operate safely in adverse environments, including swift water.
Be able to interpret canine behavior and report those results.
Be able to assist in additional Task Force activities that may arise during a mission.
Be able to account for, maintain and utilize issued equipment.
Be able to assist the medical specialist in canine care.
Visitors
If you would like to arrange a visit to the team Cache and Training site, please contact us ahead of time. Visitors and prospective members can find Directions to the Cache here.
Contact
If you have interest in applying to MATF Canine please Contact the Task Force.