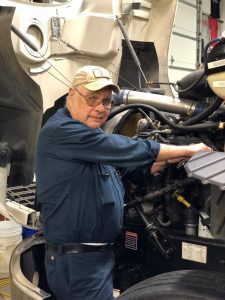 Ken Lewis (Kennison Reilly Lewis) died on October 12, 2022, of complications of Covid at Leady Clinic in Burlington, MA.   Ken was 87 years old.
Ken attended Beverly High School and graduated from the Beverly High Trade School in 1954 as a Motor Mechanic.   He worked at several Ford and Chrysler dealerships before joining the City of Beverly in 1980 as a mechanic at Beverly Airport, a position he held for 32 years.   Ken joined FEMA as a part-time mechanic in 2015.
Encouraged by his Trade School friend Dick Jutras, Ken became a member of the Beverly Auxiliary Fire Department in the mid-1950s.   Ken and Dick worked together to build a fire truck made of parts from other trucks and a civil defense war surplus fire pump.   Later he worked with CD Director Buell Abbott to retrieve an O-10 Crash Rescue Fire Truck from Limestone, Maine, and drove the truck 8 hours back to Beverly Airport.
Ken has worked almost his entire life for the City of Beverly, combining working days at the airport and volunteering as a member of the Civil Defense Department.  In the 80s and '90s, Ken helped the department expand into Emergency Medical Services and ran the Nuclear Reception and Decon Center at the Mass DPW facility as part of the Regional CD Council.  After his retirement, he continued working part-time at FEMA to keep their expanding fleet of vehicles ready to respond at a moment's notice.
A graveside ceremony will be held at 1 pm on Friday, October 21st, at North Beverly Cemetery.   Afterward, a small reception will be held at MATF Headquarters, 43 Airport Road, Beverly, MA.